24 Fore Street, Lostwithiel, Cornwall, PL22 0BL - Telephone 01208 872524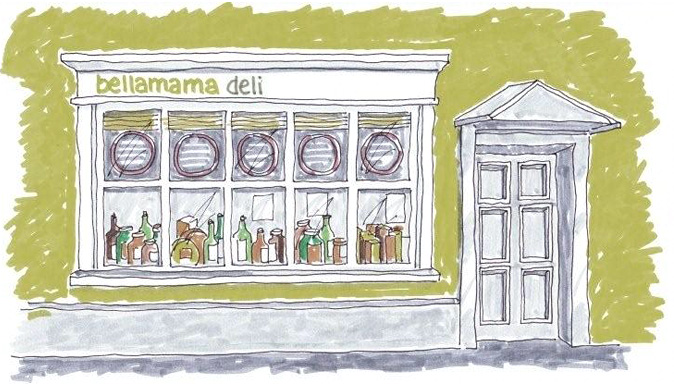 When we first moved to Cornwall ten or so years ago, the sum total of good food was finding a decent Cornish pasty or fish and chips (if you were lucky). Now we are blessed by having some of the best food suppliers and producers in the country, using the wealth of fantastic natural local resources in Cornwall. It was on the back of this sea of change regarding food that we opened Bellamama deli in April 2009.
The variety and quality of produce we offer is closer to what you'd expect to find in a chic London deli. We excel at good old fashioned service: for us the customer is King (or Queen!) However we are not stuffy or pretentious; we want you to enjoy the experience of coming to our deli and the great food we have on offer.
---
Our Shop
It isn't the biggest in the world, but it is crammed full of wonderful local and Continental foods.
We like nothing better than people to sit at our table for two (or four if you count the window ledge!) and enjoy most probably the best coffee in town.
---
Cheese
Poets have been mysteriously silent on the subject of cheese! However you can't help but get excited about the superb range of local and Continental cheeses we offer.
Cornish Yarg (Gray spelt backwards, named after the original recipe owners) wrapped in either local nettle or wild garlic leaves is a must try.
Cornwall is now blessed with a World Champion cheese: Cornish Blue. Made just a few miles from the deli, this fantastic creamy blue was voted the world's best cheese at the 2010 World Championships.
St Endellion was well known in Cornwall as a wonderful creamy Brie before it was chosen as a middle name for PM David Cameron's youngest child (after her impromptu birth during a family holiday in Cornwall).
We stock a wonderful range of cheeses made by hand by Sue Proudfoot, a great artisan cheese maker from the north coast where you can practically smell the meadows from which her local herd have been grazing.
As for our Continental selection, this varies all the time but we keep the classics ranging from probably the best French Brie, Brie De Meaux, to Roquefort Papillon Black Label (fantastic just dolloped on top of a local steak!), cave-aged Gruyère and Jura Mountain Comté. We stock too many cheeses to list here but all are kept in the best condition possible and we pride ourselves on the variety on offer.
---
Charcuterie
From the humble yet always satisfying Italian salamis to the majestic Parma Ham, our range of cured meats will satisfy most requirements.
We also stock Cornwall's own version of Parma Ham in Cornish Coppa. Our varied and interesting selection of cured meats are fantastic as a starter, for picnics or to create impressive platters at parties.
---
Antipasto/Olives
We have always got a great selection of the best olives available in stock. Not those bitter, brine soaked things but plump, succulent real olives like Kalamata, Sweet Sicilian, and our wonderful stuffed olives, filled with either black olive cream, sun dried tomatoes or garlic cloves to name but a few.
Coupled with our very popular baby red peppers, baby pumpkins, figs and apricots all stuffed with cream cheese, these make a great display for 'nibbles'.
---
Artisan Breads
We are the only supplier in town of Vicky's organic breads. Vicky set up her artisan bakery in Helston a couple of years ago and is renowned in the county as one of the best bakers around.
At Bellamama we stock her French Bordelais sourdough, organic multigrain, spelt and organic baguettes. We also bake a range of delicious breads on the premises, from walnut loaf to focaccia, alongside organic white and wholemeal bloomers.
On Fridays and Saturdays, we now stock bread from our fabulous local bakery in Fowey, Quay Bakery. Run by Tom and Nicki, their delicious fresh bread has been an instant hit with our customers!
---
Food To Go
An increasing part of our business is our wonderful array of food to takeaway. From traditional Cornish pasties (of course) to Becky's famous scotch eggs (a meal in itself) and fantastic hand baked pies such as pork & apple or chicken & ham. We also offer a large range of vegetarian products, such as spinach & feta pie wrapped in crispy filo pastry and good old fashioned Homity Pie filled with cheese, potato, onion and herbs. We always have a vast range of home-made quiches and cakes too. No cardboard sandwiches here, only great ones made to order using soft warm flatbreads or organic pain rustique filled with an ever changing choice of fillings, such as honey chilli chicken, hummus and falafel or a combination from the deli counter. You decide, we make it!
During the busier holiday months we also open on some evenings for our wonderful stone-baked pizzas or mouth-watering curries. Opening times vary and are available by calling 01208 872524.
---
Coffee
We pride ourselves on the quality of coffee we serve, be it sit in or takeaway. Our coffee is supplied by Origin Coffee ,a vibrant Cornish-based company who now not only import coffee but roast the beans here in Cornwall, ensuring the quality. All their coffee is either sourced from Organic, Fairtrade or Rainforest Alliance certified farms, ensuring care for the growers and the environment and creating a strong supply chain to guarantee you get a fantastic cup of coffee.
---
Wines Beers and Ciders
We stock a varied range of wines from all around the world and including some of the best British wines, namely Sharphams and Camel Valley. You won't find these exclusive wines in a supermarket and our range caters for all discerning tastes.
Our local beers are made just down the road at Castle Brewery, an independent micro brewery making traditional ales. Made by hand using just malt, barley, hops and water these real ales are proving to be a big hit. From the 'Once A Knight' to 'Lostwithiale' their strength ranges from 4.2% vol. to a mind blowing 10%vol. for the 'Hung Drawn & Slaughtered' - you will be if you have too many of these!
Our ciders range has something for everybody, be it scrumpy in a flagon to a refined and sophisticated dry semi sparkling cider, which served chilled on a hot day will give any white wine a run for its money. This year we will expanding our range further with Trethias Farm cider, made just a few miles away.
---
Catering
An ever increasing part of our business is the catering side, be it just a platter of charcuterie for four to a large wedding party. We are happy to prepare dishes for you to heat at home - our luxury fish and seafood pie is a big favourite. There can be nothing better after a hard day at work - or on the beach - than coming to a home-made meal ready to eat. For a full list of our meals to go please call us on 01208 872 524 , or if you have a favourite that you would like us to make for you we'll be happy to oblige.
We recently purchased a gigantic paella pan and on several summer evenings we cook fantastic paellas outside the deli. If you live in Cornwall or are holidaying here and would like to throw a paella party we will happily come to you. Please contact Sue at the deli for further details.
---
Hampers & Gifts
From jute bags holding three jars of Cornish Chutneys in it right up to large wicker hampers crammed full of lovely goodies , we can help with all your foodie gift ideas. These gifts aren't just for Christmas, they can enhance any occasion all year round. Our Cornish hamper is a speciality that we can courier anywhere in the world. We can send fresh goods, like cheese and meats, for next day delivery anywhere within the UK.
---
Contact us
So come and say hello at 24 Fore Street, Lostwithiel (view a map showing our location here), give us a call on 01208 872524 or fill in our online contact form. Hope to see you soon!